Bat – One of the dreadful night fliers that is bigger and more terrifying than a rat.  Bats are generally not as contagious as rats but their feces can cause histoplasmosis (an influenza-like disease) if you inhale them.  Moreover, a few of them might even carry rabies, so it is best not to catch them with bare hands or come into contact with their bodily fluids.
What do you do when bats enter your premises and sojourn on the trees in your garden?  Here are a few tips that you can adopt to get rid of these night creatures.
(i) Locate & seal off points of entry.  Find out where the bats fly in to your premises.  Look for cracks on the roof, fissures on walls, missing shingles in building, and the like.  Seal off these openings to prevent their entry.  You can also use one-way devices or make one from PVC pipes, netting or caulking.
(ii) Wrap some mothballs in a cheesecloth & tie the gauze up to form a sack.  Place the sack in the area where you have identified as the bats' nest.  The odor emitted from the mothballs will drive the bats away and discourage them from roosting there.
(iii) Spray dog or cat aerosol repellent on the spots where bats like to hang out, such as, branches of a tree.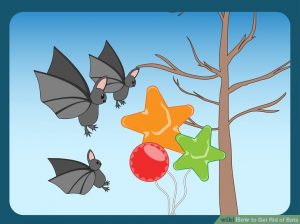 (iv) Hang Mylar balloons or strips of thin foil on the trees so that the bats have no place to roost or find it uncomfortable to roost on the trees.
(v) Spray water in the areas of roosting so that they'll get away, but this has to be done regularly as they have a habit of returning to their old nesting sites.
Despite their hideous appearance and pesky behavior, it is, however, advantageous to have a few bats hanging around as they help us gulp up mosquitoes and other pests.  Indirectly speaking, bats also serve as our pest eliminators.
References:
http://www.wikihow.com/Get-Rid-of-Bats 
http://www.pbs.org/wgbh/nova/next/body/bioinspired-assistive-devices/  (Image source)